Digital Explorers Webinar Series Insights from the first round of mobility between Nigeria and Lithuania
16 November 2020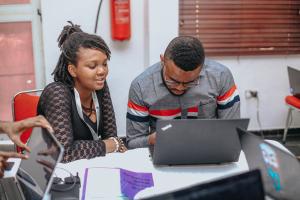 Digital Explorers is an innovative talent mobility programme and one of the first four EU-funded Pilot Projects on Legal Migration implemented in the framework of the MPF.

Started in early 2019, the initiative has sought to address talent shortages in the ICT sector in Lithuania all while advancing digital skills of Nigerian ICT professionals through a tailored mobility programme connecting the two markets. The first cohort of the so-called "Explorers", 15 Nigerian developers, quality assurance specialists and data scientists, have arrived in Lithuania and taken up their positions with seven companies. In parallel, they have undergone an intensive training programme, aiming at boosting their digital skills in areas such as Java programming or data analysis, and have contributed to the creation of new professional networks between the two countries.
One year later, the project team has started sharing their reflections and learnings on this first round of mobility in a series of online discussions that took place in October 2020.
This article highlights key insights shared in the context of these webinars. Recordings of all sessions are cross-referenced and available here.
The events focused on three key questions:
What are the necessary enablers for talent mobility?
How to effectively engage the private sector?
How to work towards a win-win outcome for all involved partners?
The necessary enablers for piloting digital skills mobility
The design and set-up of a mobility scheme between Lithuania and Nigeria on "unchartered" territory between two countries that have never formally cooperated before, required genuine pioneering. Partners had to find an efficient migration model and, most importantly, build trust among all stakeholders involved.
These and other important enablers for successful mobility schemes were among the topics discussed at the first webinar "Potential of talent mobility between the EU and Africa". While various bottlenecks in Lithuanian migration procedures have appeared in the course of implementation of Digital Explorers, these were not the only challenges to be tackled while building a sustainable route for talent mobility. Stakeholders engagement and communication were equally crucial. And while these might appear to be obvious project management buzzwords, making them work for the success of the project required conscious, dedicated effort:
Engagement of key stakeholders had to take place beyond mere exchanges of updates in an active, periodic and structured process. To achieve this, Digital Explorers has set up an advisory board, gathering representatives of relevant ministries and other government institutions, private sector and industry influencers, who would be presented with a project update as well as current challenges and opportunities on a regular basis. Team members would also be in touch with members of the advisory individually as needed, and approached them to actively participate in various public events, community meet-ups and speak for the press about the project. Constant engagement produced strong ownership of the project among various stakeholders, which proved to be crucial whenever there were challenged that project team could not have addressed on their own (for example, mediating migration bottlenecks).
Working with different stakeholders and ensuring their active engagement required tailored communication about project vision and activities - for what can be relevant for government institutions, might not be actually so for the private sector. The Digital Explorers team has invested significant efforts into understanding why the project is relevant for a specific stakeholder and has tuned its communication accordingly, be it in project one-pagers, presentations or when participating in events. Tailored communication has been especially crucial in engaging with the private sector, particularly in ITC – a sector which is highly sensitive for quality visuals and narrative, and speak a certain "language" that is different from the one of the public sector or general public.
Addressing private sector needs
Addressing labour market needs of the EU Member States is seen as one of the very key components of the pilot projects for legal migration – this brings engaging the private sector to the forefront of the priorities. What tends to be missed is that the private sector is not a uniform category, and needs might significantly differ even within a certain field – ICT, in the case of Digital Explorers – depending on the size, nature and maturity of specific companies. For example, foreign talent attraction is often pictured as a solution for the shortage of ICT specialists in the EU and the topic is widely talked about from a migration policy perspective, but we rarely discuss what it means at the micro level - for organizations that are rather homogenous (as is the case with most Lithuanian small and medium size ICT companies) to transform themselves and onboard people from different countries and cultural backgrounds. Against this backdrop, the second closing webinar of Digital Explorers' first cohort sought to reflect on what it has really taken to attract and integrate international talents, touching upon challenges and benefits of the organisational transformation it has triggered.
Key insights from the session included:
Project value proposition and design should be tailored according to the target group and reflecting where the project can create most value added. While working with SMEs might be more challenging (as their teams could be presumed to be more sceptical about internationalization), this is where project support can lead to a much-needed transformation.
It has paid off to get hands-on involvement with staff and managers at individual companies (HRs, Tech Leads, CEOs). Though a common practice in similar projects is to mainly work with business associations (and their buy-in is crucial), they usually have only a high-level view which does not provide sufficient insights to understand the full breadth of companies' dynamics around piloting such new schemes.
Balancing the benefits for both sides
Partnerships around mobility - especially when it comes to skilled talent - is not always a straightforward win-win for both receiving country and country of origin. Despite reintegration support available, for now, most of the first cohort of the Digital Explorers chose to stay in Lithuania after the one-year programme (and were either retained by their host companies or were employed by others). As part of their efforts to stay in constant engagement with the local stakeholders and reflect on the impact of mobility schemes, the third webinar was organised with an aim to discuss Nigeria's potential to harness digital talent. Different verbs related to brain – drain, gain, waste, circulation or flight – were discussed in the context of talent mobility:
Working with a local partner – not just consulting, but actually designing and implementing the project together – helps to build trust and have both sides equally represented in a project. Ventures Platform, member of the Digital Explorers project consortium, is a prominent actor in the tech ecosystem in Nigeria, and has effectively represented the needs and aspirations of the community throughout the project duration.
"Brain flight", when managed, allows to nurture a conscious community of talents, whether they return, work remotely or stay abroad. They can be supported to continue giving back and to build a digital ecosystem in Nigeria. Additionally, mobility projects can also support pipeline development of quality talent through the implementation of different training activities in the countries of origin.
Next steps
It is too early to fully understand the impact of Digital Explorers - one year is a rather short period of time in both companies' worlds and Explorers' lives, not to mention with regards to the development of the tech ecosystems. However, the Digital Explorers' webinar series definitely demonstrated the important interest and appreciation the project has received in both Lithuania and Nigeria. And the journey continues! In addition to its second mobility track offering traineeship opportunities for female data analysts / scientists in 2021, the project team is also looking to expand the activities to other Baltic and West African countries. ..Stay tuned for more!