In September 2022, 18 talents from the Tangier Tetuan Al Hoceima region of the Kingdom of Morocco arrived to Seville, Spain for a four-month training in renewable energies and green economy. They were the first group of participants to join the MOVE GREEN project, who have now returned to Tangier upon completion of their training at the International University of Andalusia.
The project, funded by the European Union through ICMPD's Migration Partnership Facility (MPF), is currently supporting and accompanying the talents who are either seeking for employment opportunities or planning to start their own business in this innovative sector. This article looks into the journey of the young Moroccans in the green economy and the renewable energies and seeks to learn from their lived experience to improve the implementation of the project.
---
MOVE GREEN is a circular mobility scheme between Andalusia and Northern Morocco that supports networking opportunities and professional qualification for young Moroccan talents seeking to work in the renewable energy and green economy sector. The project aims to increase their employability and entrepreneurial capacity as well as to strengthen cross border public-private partnerships at the regional level in order to promote circular mobility and mutual development. The project is funded by the European Union in the framework of the Migration Partnership Facility (MPF) through the International Centre for Migration Policy Development (ICMPD).
Kaoutar studied renewable energies and is a state engineer in Eco-energy and Industrial Environment. Hajar is currently doing a PhD in marine environment and climate change. Ilias studied renewable energies and is currently an energy engineer.
---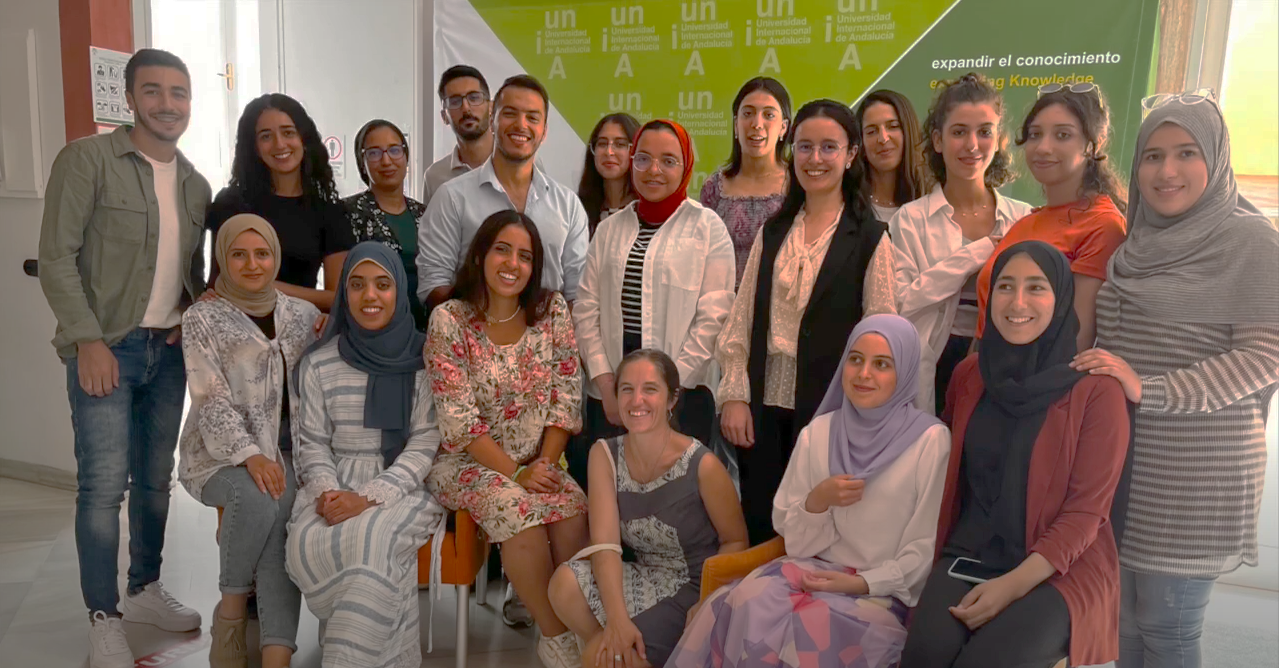 Participants of the MOVE GREEN project at the International University of Andalusia, Spain, September 2022
Skills Development: Personal and Professional Growth
Participants took theoretical and practical courses at the University of Seville, where many of them enjoyed the high quality training they received: "the most positive point of the programme was the professors" says Kaoutar, explaining how it was a key part of their journey. In addition, participants' Spanish skills improved significantly throughout the four-month stay in Andalusia. Initially, taking renewable energy courses in Spanish was challenging for some participants but four months later, Hajar was surprised and proud to find out that "we were all speaking in Spanish and talking [about] renewable energies, and I think that was great for all of us." Echoing Hajar's thoughts on skills development, Ilias adds "I strongly believe that if this project is done right [and] builds on its success, I think this programme will be a game changer, like a life changer for a lot of people."
Another asset that added value to their career was the final project they delivered in groups. In practice, participants will be able to present their final projects during job interviews to demonstrate their level of knowledge and experience gained in the field. "Final projects were so interesting. We learned so much from it." says Ilias. Although Hajar recalls that that four months felt short to polish their final projects while attending technical and theoretical training and visiting companies in the field, she says everyone put in all their efforts and delivered the project because "it is something that stays with you."
Regional Connections: Creating Potential for Cooperation between Andalusia and Northern Morocco (and beyond)
Networks and connections created during the participants' stay in Andalusia continue to be used in their careers. "Now we are building our project in energy auditing. This will be for Moroccan industries and we are willing to scale it internationally" says Kaoutar and Ilias. "While building this project, we talked with our professor in Seville, asking him about the material we are going to need." The professor who had a strong practical background in the field was "a very important resource" for them. Moreover, their energy-auditing project will require materials that are not present in Morocco. "We are going to bring them from Spain. So that's a win-win situation" they explain, describing one of the key principles sought by labour mobility pilots in their own words.  
Hajar feels she was also able to make the best out of the network she found through the project. "I am preparing an initiative right now with a friend from this project. We are going to start a consulting firm in environmental education and sensitisation." Their endeavour will first focus on mainly the North of Morocco, because Hajar "noticed that people have consciousness about climate change in Spain and whole of Europe. Their daily task and activities are based on 'am I respecting the environment with this or not?' We do not have this here. So, this is something that we want to work towards – to establish here, [something] to change the mentality of people, because for energy efficiency, it starts with the mentality of people." Nevertheless, their ambitions extend beyond borders – they are also keen on internationalising after they develop locally, through contacts they gained during their visits to companies in Spain.
Moving Forward: a Pilot that is Agile and Adaptive
Today, MOVE GREEN is inviting a second group of participants to join the project. As a pilot project, remaining agile and adaptive to the challenges and lessons learned throughout implementation is key. Therefore, this time, the scope of eligibility expanded to those who have a more technical background (BAC+2 or +3). Such profiles could benefit more directly from the theoretical and practical training. Moreover, experience exchanges between Andalusian and Northern Moroccan public and private entities will take place. This seeks to contribute to building an enabling environment for public-private partnerships (PPP) in the region, which can also be favourable for the circular migration of talents in the renewable energy and green economy sector.
Participants' hands-on experience is also crucial to reflect on. The first group of participants have already been actively representing the project – they share their experience on social media to spread the positive experience and impact gained, acting as ambassadors of the project. As one of the second generation pilot projects on legal and labour migration, MOVE GREEN will continue to gain inspiration on its way forward from its most direct beneficiaries , ensuring that their voices are reflected within the scope of the project to contribute to more and better labour migration between the EU and partner countries.